KONCERT HOLLYWOOD VAMPIRES ODWOŁANY!
THE HOLLYWOOD VAMPIRES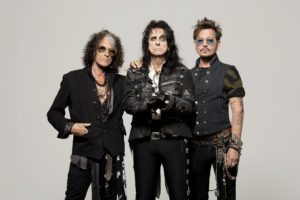 Hollywood Vampires is an American rock supergroup formed in 2015 by Alice Cooper, Johnny Depp, and Joe Perry to honor the music of the rock stars who died from excess in the 1970s.
After explosive performance of their song "I Want My Now" on The Late Late Show with James Corden, American rock supergroup Hollywood Vampires announce a European tour in summer 2020. Rock and roll royalty Joe Perry, Hollywood superstar Johnny Depp and shock rock icon Alice Cooper tour in support of their critically acclaimed new studio album "Rise", which was released on earMUSIC in June.
Tickets available on:

Join Facebook event:
https://www.facebook.com/events/414819935881825/
🎵 The Hollywood Vampires (US)
🎧 youtu.be/dy5k-AzzBzg
🎧 https://open.spotify.com/artist/3k4YA0uPsWc2PuOQlJNpdH